Class 2015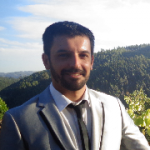 PhD thesis
Fluorescently-labeled DNA Probes Functionalized onto Gold Nanorods for Signal Enhancement in Nucleic Acids' Detection
Supervisors
•  Pedro M. Paulo, Research Scientist @ IST/ULisboa, PT
•  Duarte Miguel F. Prazeres, Professor @ IST/ULisboa, PT
Collaborator
•  Peter Zijlstra, Professor @ Technical University of Eindhoven, NL
PhD summary
The impact of nanotechnology has been remarkable in a wide range of academic and industrial applications and, over the last decades, it has changed vital areas of our modern society, like health, biotechnology, environment, energy, electronics, etc. In particular, the field of nanomedicine has emerged with the development of innovative approaches for medical diagnosis or treatments that could bring substantial improvements in medical care for the general public. In this doctoral thesis, a contribution toward this collective effort is given from studies of fluorescently-labelled DNA probes conjugated onto gold nanoparticles in order to develop a nano-object that could perform sensing of nucleic acids. The role of the metal particle is more than that of a nano-size platform, as they can act as optical antennas and include large enhancements in the dye's emission. The work presented in this thesis is mostly concerned with the evaluation of this emission enhancement effect, in view of its application in signal amplification of fluorescence-based sensors. In this sense, model systems that explore artificial DNA probes were developed and tested in conjugation with gold nanorod antennas. The surface functionalization of the metal particle was optimized to ensure effective emission enhancement as characterized by fluorescence spectroscopy techniques. Detailed studies of the enhancement effect were performed by confocal fluorescence microscopy with single-molecule sensitivity and combined with single-particle spectroscopy. Furthermore, DNA hairpin probes, commonly known as molecular beacons, were designed for the detection of nucleic acids proposed as disease biomarkers for infection by dengue virus or sleeping sickness, and also for detection of microRNA-145, which is de-regulated in cardiovascular or oncological pathologies. The conjugation of these complex DNA hairpin probes revealed a challenging road ahead, but one that could lead to promising results toward the development of biosensor tools with more sensitivity or lower detection limits for the detection of nucleic acids in medical diagnosis.
PUBLICATIONS
Papers
Oliveira-Silva R., Sousa-Jerónimo M., Botequim D., Silva N. J. O., Paulo P. M. R., Prazeres D. M. F., Monitoring Proteolytic Activity in Real Time: A New World of Opportunities for Biosensors, Trends in Biochemical Sciences, 45 (7), 2020.
Botequim D., Silva I. I. R., Serra S. G., Melo E. P., Prazeres D. M. F., Costa S. M. B. and Paulo P. M. R., Fluorescent Dye Nano-Assemblies by Thiol Attachment Directed to the Tips of Gold Nanorods for Effective Emission Enhancement, Nanoscale, 12 (11), 6334-6345, 2020.
Oliveira-Silva R., Sousa-Jerónimo M., Botequim D., Silva N. J., Prazeres D.M.F., Paulo P. M. R., Density Gradient Selection of Colloidal Silver Nanotriangles for Assembling Dye-Particle Plasmophores, Nanomaterials, 9(6), 893, 2019.
Francisco A. P., Botequim D., Prazeres D. M. F., Serra V. V., Costa S. M. B., Laia C. A. T., Paulo P. M. R., Extreme Enhancement of Single-Molecule Fluorescence from Porphyrins Induced by Gold Nanodimer Antennas, Journal of Physical Chemical Letters, 10 (7), 1542-1549, 2019.
Paulo, PMR, Botequim, D, Jóskowiak, A, Martins, S, Prazeres, DMF, Zijlstra, P, Costa SMB, "Enhanced Fluorescence of a Dye on DNA-Assembled Gold Nanodimers Discriminated by Lifetime Correlation Spectroscopy", Journal of Physical Chemistry C, 122 (20), 10971–10980, 2018.
Oral Communications
Botequim, D., Jóskowiak, A., Martins, S.A.M., Prazeres, D.M.F., Costa, S.M.B., Paulo, P.M.R., "Functionalized gold nanoparticles for plasmonic biosensing of nucleic acids", MicroBiotec2015, December 10-12, 2015, Évora, Portugal
Botequim D., Prazeres D. M. F., Costa S. M. B., Paulo P M. R., "Fluorescence Enhancement of Labeled Oligonucleotides Using Plasmonic Gold Nanorods Toward Biosensing Applications", nanoPT2018 International Conference, February 7-9, 2018, Lisboa, Portugal
Botequim D., Silva I. I. R., Prazeres D. M. F., Costa S. M. B., Paulo P.M R., "Tip-selective functionalization of colloidal gold nanorods with fluorescently-labeled DNA's: optimizing antenna effects", 6th Nano Today Conference, June, 16-20, 2019, Lisboa, Portugal.
Botequim D., Silva I. I. R., Prazeres D. M. F., Costa S. M. B., Paulo P.M R.," Tip-selective functionalization of gold nanorods with dye-labeled DNA's for effective fluorescence enhancements", NanoSpain2019, May, 28-31 2019, Barcelona, Spain,
Poster Communications
Paulo, P.M.R., Botequim, D., Jóskowiak, A., Martins, S.A.M., Prazeres, D.M.F., Zijlstra, P., Costa, S.M.B., "Plasmon-Enhanced Fluorescence Using DNA-Assembled Gold Nanoparticle Dimers", 14th IUVSTA Nano-Optics School, Braga, Portugal, April 2016
Paulo, P.M.R., Botequim, D., Jóskowiak, A., Martins, S.A.M., Prazeres, D.M.F., Zijlstra, P., Costa, S.M.B., "Plasmon-Enhanced Fluorescence Using DNA-Assembled Gold Nanoparticle Dimers", Vth Spanish-Portuguese Conference on Photochemistry, Toledo, Spain, September 2016
Paulo P. M. R., Botequim D., Eskandari Z., Prazeres D. M. F., Zijlstra P., Costa S. M. B., "Site-selective Functionalization of Hot-spots for Plasmonic Biosensing", NaNaX 8 — Nanoscience with Nanocrystals, July 3-7 2017, Braga, Portugal
Botequim D., Prazeres D. M. F., Costa S. M. B., Paulo P M. R., "Gold Nanorods Conjugated with Fluorescently-Labeled DNA's: Highly Loaded Dye-Nanoparticles", Noble Metal Nanoparticles Gordon Research Conference, 17 – 22 June 2018, Massachusetts, USA
Botequim D., Jóskowiak A., Prazeres D. M. F., Costa S. M. B., Paulo P M. R., "Gold Nanorods Functionalized with Fluorescently-Labeled DNA's: a Single-Particle Spectroscopy Study", 6 JIF – Jornadas Ibéricas de Fotoquímica, 11-14 September 2018, Aveiro, Portugal
DOCTORAL PROGRAM (36 ECTS)
•  General Doctoral Training (6ECTS)
•  Advanced Experimental Techniques and methodologies (6ECTS)
•  Bioentrepreneurship (6 ECTS)
•  Advanced Topics in Bioengineering and Biosciences (6ECTS)
•  Outreach and Teaching Skills (6ECTS)
•  Surfaces, Interfaces and Colloids (6ECTS)