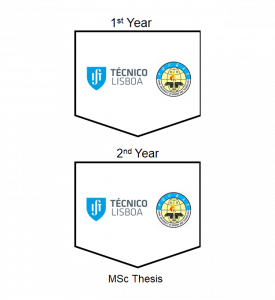 The joint master degree programme International Master of Mining Engineering covers 120 ECTS points.
This corresponds to the usual study period of four semesters (two years). 30 ECTS points are usually acquired in each semester.
The 1st and the 2nd semester of the double degree programme will be held at one of the partner institutions, Instituto Superior Técnico of the Universidade de Lisboa (Técnico) or University of Mining and Technology, Beijing (CUMTB), and the 3rd and 4th semester in the other.
The degree programme always starts in September of every year. Just for the first edition, 2019/2010, the students complete the first and second semesters of the International Master program at Técnico, and the third and fourth semesters at CUMTB.
Lectures at IST