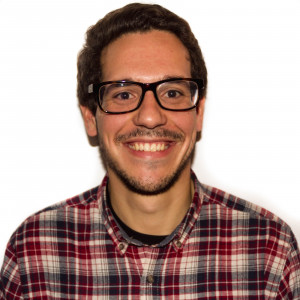 Pedro Mendes Fontes has a bachelor degree in Biochemistry from Faculdade de Ciências e Tecnologia of NOVA University of Lisbon and a master degree in Biotechnology from Instituto Superior Técnico of University of Lisbon. Also has a Laboratory Animal Science Course (according to FELASA cat. B) from Instituto de Medicina Molecular of University of Lisbon.
His PD-FCT AIM project is entitled "Discovery-On-Chip: integrated microfluidic system for antibody discovery" and will take place at Faculty of Pharmacy of the University of Lisbon place and INESC MN.
The thesis is supervised by João Gonçalves (Faculdade de Farmácia of University of Lisbon) and co-supervised by João Pedro Conde (INESC MN and Department of Bioengineering of Instituto Superior Técnico) and by. His doctoral program started on October 1st, 2017.
Publications and Scientific Articles
(prior to AIM):
Joana R Sousa, MSc; Célia M Silveira, PhD; Pedro Fontes, MSc; Catarina Roma-Rodrigues, PhD; Alexandra R Fernandes, PhD; Gonzalez Van Driessche; Bart Devreese, PhD; Isabel Moura, PhD; José J Moura, PhD; M. Gabriela Almeida, Ph.D, Understanding the response of Desulfovibrio desulfuricans ATCC 27774 to different electron acceptors – biosynthetic costs modulate substrate selection