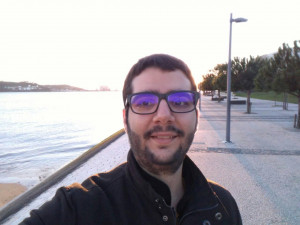 Integrated Master's degree in Biological Engineering from IST (2015).
PD-FCT AIM project is entitled "Microfluidic bioreactors for cascade enzymatic reactions" and will take place at INESC-MN and IBB. The thesis will be supervised by Professor João Pedro Conde (INESC-MN and Department of Bioengineering) and co-supervised by Professor Pedro Fernandes (IBB). His doctoral program started on the 22nd of September 2016.
Project goals:
The objective of this doctoral project is to study the design, implementation and characterization of microfluidic microreactors for complex cascade reactions using a series of enzymatic and chemical reactions.
Two potential applications will be studied: (i) biosensing of metabolites (in plants, animals and humans); and (ii) screening of production conditions for high value added biotechnological products.
In addition, the integration of additional processing modules to the microfluidic microreactor will be studied: (i) sample preparation; and (ii) downstream separation.
Ongoing activities:
- Developing a biochemical POC assay for the monitoring of grape health;
- Developing microfluidic bioreactors for enzymatic synthesis;
- Ongoing collaboration with FFUL on the development of a microfluidic cancer cell culture platform;
Past activities:
- Development of microfluidic bioreactors for the cultivation of yeast;
- Development of screening platforms for antibody purification via ATPS;
- Student Representative of the AIM Doctoral Program for the year 2018;
- Attended the first EuroMBR course at the Technical University of Braunschweig, Germany;
- Attended a pressure sensor microfabrication course: Summer School at the University of Applied Sciences Kaiserslautern, Germany;
- Completed the courses of Image Analysis and Computational Geometry, Bioentrepreneurship, Basic Doctoral training,Sensors, Signals and Instrumentation, and the Teaching and Scientific Communication Course (IST).
 Publications:
Brás, Eduardo JS, et al. "Development of a Point-of-Care Platform for Plant Health Assessment: A Microfluidic Approach." Multidisciplinary Digital Publishing Institute Proceedings. Vol. 2. No. 13. 2018.
- Bras, Eduardo JS, et al. "A multiplexed microfluidic toolbox for the rapid optimization of affinity-driven partition in aqueous two phase systems." Journal of Chromatography A 1515 (2017): 252-259.
- Brás, Eduardo JS, et al. "A microfluidic platform for physical entrapment of yeast cells with continuous production of invertase." Journal of Chemical Technology and Biotechnology 92.2 (2017): 334-341.
Oral Comunications:
- Oral Presentation at the 32nd EursoSensors Conference – "Development of a Point-of-Care Platform for Plant Health Assesment: A Microfluidic Approach."; Graz, Austria, September 2018
- Poster Presentation at the Microbiotec 2017 conference entitled: "Affinity driven aqueous-two phase extraction of antibodies: a microfluidic approach."; Porto, Portugal, December 2017
- Oral Presentation at the Anything But Conventional Chromatography Workshop Organized by ESBES, entilted: "Rapid and multiplexed screening of aqueous two-phase systems for the affinity driven partition of biopharmaceuticals using a microfluidic toolbox.", Lisbon, Portugal, November 2017
Teaching and Scientific Dissemination
- Advanced Experimental Physics classes concerning Hydrogenated amorphous silicon thin-film photosensors fabrication, characterization and use as part of a biosensor;
- PhD Lab Rotation Supervision: Ana Rita Mendes (MIT Portugal), Ana Filipa Louro (MIT Portugal);
- Master Thesis Supervision: Rafaela Pereira (IST), Benjamin Heidt (Hochschule Kaiserslautern), Cristiana Domingues (IST), Ricardo Serrão (FCT-NOVA);
- Bachelor Thesis Supervision: Niklas Floto (Hochschule Kaiserslautern);
- Summer Student Supervision: Miguel Alves (IST), Beatriz Carvalho (IST);
- Participation at the Futuralia Exposition directed at young students (2018);
- Organization of the AIM 6.5 Workshop: From Students to Students, held at IST (2018);
- Organization of the Microfabrication Workshop, Held at INESC-MN (2017).
Honors:
- Best Poster Presentation award at MicroBiotec 2017
- Academic Excellence Diploma for the year 2014/2015