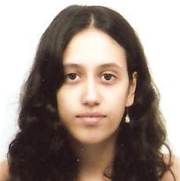 (PhD Student)*
Status at iBB - Institute for Bioengineering and Biosciences:
· PhD student at the Biological Sciences Research Group
Education:
Graduation in Biochemistry, Faculty of Sciences, University of Lisbon, Portugal, 2013

Master in Biotechnology, Instituto Superior Técnico, University of Lisbon, Portugal, 2015
Positions:
Research Activities:
Mechanisms of antifungal drug resistance and pathogenesis in Candida glabrata

Microbial physiology and molecular biology

Transcriptomics.
Grants:
Research Grant within the scope of project UID/BIO/04565/2013

Research Grant within the scope of the FCT project PTDC/BBB-BIO/4004/2014

PhD scholarship within the FCT PhD program BIOTECnico
Publications:
Thesis
Cavalheiro, M. (2015). Unveiling the mechanisms of evolution towards fluconazole resistance of Candida glabrata clinical isolate: a transcriptomics approach. MSc Thesis.
Book chapters
Cavalheiro M., Costa C., Pais P., Teixeira M.C. (2016), Acquisition of resistance to azole antifungal drugs in Candida species: imidazoles versus triazoles, In: Advances in Medicine and Biology (Leon V. Berhardt, Ed.), Nova Science Publishers, Inc., NY, USA, vol.8, chapter 9.
Papers in International Journals
Pais, P., Costa, C., Cavalheiro, M., Romão, D., Teixeira, M.C., "Transcriptional control of drug resistance, virulence and immune system evasion in pathogenic fungi: a cross-species comparison", Frontiers in Cellular and Infection Microbiology, 6: 131, 2016.
Costa, C., Ribeiro, J., Miranda, I.M., Silva-Dias, A.I., Cavalheiro, M., Costa-de-Oliveira, S., Rodrigues, A.G., Teixeira, M.C., "Clotrimazole drug resistance in Candida glabrata clinical isolates correlates with increased expression of the drug:H+ antiporters CgAqr1, CgTpo1_1, CgTpo3 and CgQdr2", Frontiers in Microbiology, 7:256, 2016.
Costa, C., Ponte, A., Pais, P., Santos, R., Cavalheiro, M., Takashi, Y., Chibana, H., Teixeira, M.C., "New mechanisms of flucytosine resistance in C. glabrata unveiled by a chemogenomics analysis in S. cerevisiae", PLoS ONE, 10(8):e0135110, 2015.